For over 20 years Wheelchair Getaways has provided safe and reliable accessible van rentals across the nation. Today that means going the extra mile in ensuring the vehicle you are renting is properly cleaned and ready for your rental. Our locations are closely following guidelines from health experts including the Centers for Disease Control (CDC) to ensure we always have access to the latest information and guidance. Our hearts go out to those of you affected by the virus and we are working hard to provide you with a vehicle that can transport you safely.
Cleaning Protocols
Beyond the normal cleaning we provide between every rental, we will take the additional steps of using disinfectants to sanitize these key areas in the vehicles:
Key/Key fob  |  Areas between seats and consoles  |  Steering wheel  |  Cupholders/compartments  |  Steering column   |  Seat belts  |  Instrument panel  |  Accessory panel/touchscreen  |  Center console  |  Rearview mirror/side mirrors  |  Door interiors  |  visors/visor mirrors  |  Interior door handles  |  Dashboard/vents  |  Exterior door handles  |  Gear sticks/gear shift  |  Seat pockets/seat surfaces  |  Trunk release
Operations + Hours Of Service
Unless otherwise noted, all of our locations are operating during the normal business hours and customer service will be provided during those times. Some locations have experienced staff shortages due to COVID-19 and we ask that you are patient in the time you wait for a response. Please feel free to use our Contact Page if you have been waiting an extended period of time for a response.
Cancellations And Changes To Reservations
Every Wheelchair Getaways location is independently owned and operated. While most of our locations are offering hassle-free cancellations and changes to your existing reservation, we recommend contacting your reservation location and inquire about costs regarding a change in plans. You can do this by visiting our Locations listing and finding the appropriate location.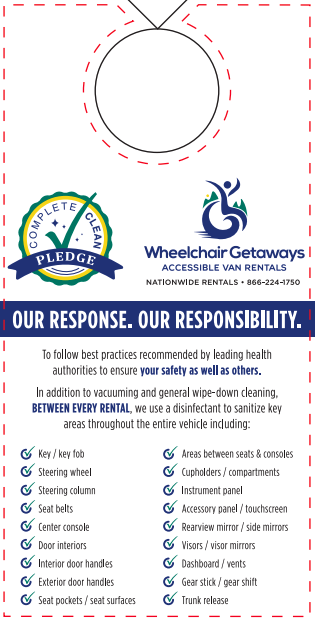 Help Us Help You
If there are any special circumstances regarding your rental, please note it in the comments section. The CDC recommends frequent hand washing and doing so will help all people handling your vehicle from contracting the virus.
Thank You
Thank you for being a valued Wheelchair Getaways client. Our member-locations have been hard hit during this time and it's serving you that makes our business worthwhile. We are all eager to "return to normal" and we will be here for you when you are ready!