October is fast approaching! It's the time of year for pumpkin spice, changing leaves, and football, but there is nothing we look forward to more during fall than Halloween. People living with disabilities who require wheelchairs can sometimes find putting together the perfect Halloween costume challenging, but rest assured that there are plenty of costume ideas that incorporate your wheelchair into the design.
Safety Tips for Wheelchair Users on Halloween
Safety is paramount when creating your wheelchair-based Halloween costume. It is crucial to make sure that the costume doesn't interfere with the operation of the wheelchair. In addition, it's important to consider the mobility of the costume combined with the chair. Is the chair electric, or will someone be pushing it? Using a costume that can be disassembled and reassembled easily will make for easier navigation of tight spaces.
Additionally, if you plan on going trick-or-treating, make sure your costume has lights or something reflective, and make sure to bring a flashlight along. A little light can go a long way toward keeping you safe on a dark Halloween night.
Costume Designs for Wheelchair Users
Wheelchair users have nearly unlimited options for incorporating their chairs into a costume. Before you start your design, remember that if you are using a costume that extends outward from your wheelchair, it is a good idea to have it held together with something removable, like velcro straps. Use light materials to avoid putting strain on your chair and avoid damage to your costume by making sure it rides high enough off the ground to not drag behind you. If the wheelchair itself is not part of the costume, using dark pants or leggings and a dark blanket across your lap can shift the focus to the more elaborate parts of the costume. 
Planes, Trains, and Automobiles
Vehicles are excellent choices for a wheelchair costume. Think Cinderella's stagecoach, a pirate ship, or an airplane with a pilot. Many of these costume ideas can be assembled using materials as simple as cardboard boxes and a little decoration. If you want to be a little more elaborate, you can turn your wheelchair into a race car by using sponsorship decals, headlights, a steering wheel, and a cardboard car body surrounding a helmeted driver. Or, if space is more your thing, you can create a design around one of the various ships and droids from your favorite space-based TV or movie. Finally, for a simple vehicle-based wheelchair costume, simply add some handlebars to the front of the wheelchair for a superb biker costume.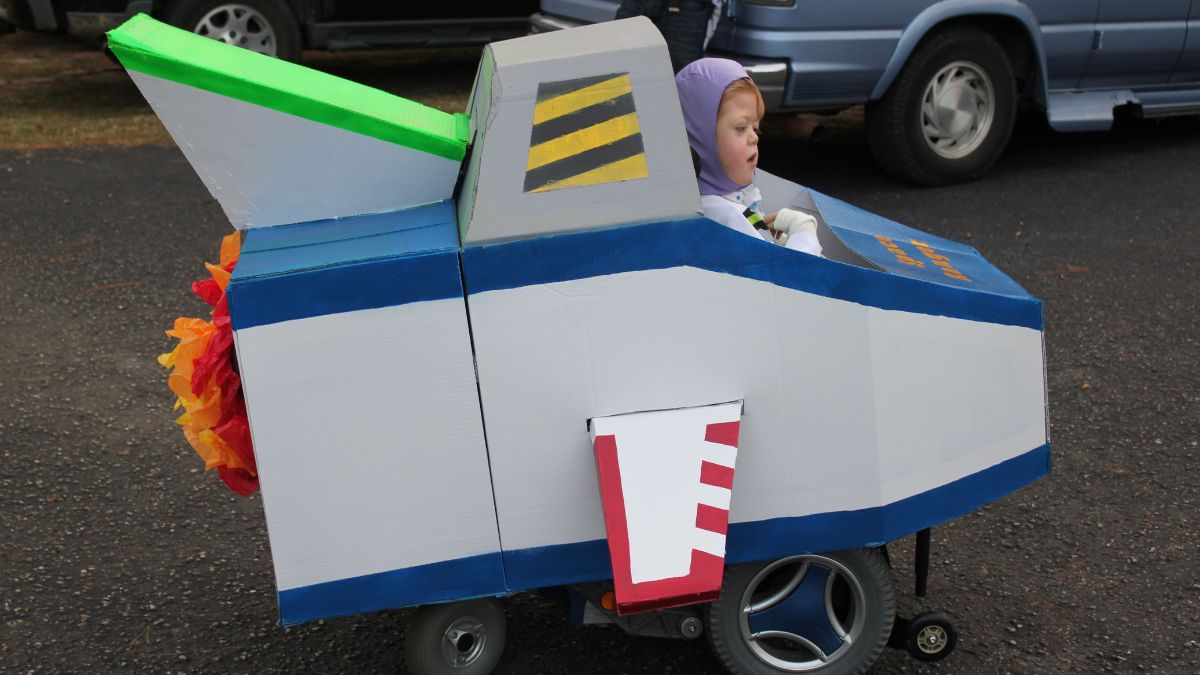 Make Your Wheelchair Magical
Costumes are a great opportunity to convert your chair into a mythical creature, such as a mermaid or unicorn. Try adding a mermaid tail and decorating your chair with a beach/ocean theme. A horse outfit with cardboard wings built around the chair makes for a cool Pegasus costume. Your wheelchair can also be transformed by constructing a dragon's body around it. Decorate it with flames and scary eyes for a fierce dragon, or use more flamboyant and shiny decorations for a fun-loving dragon costume. Real-life animals are a good choice as well. Dress as a lion or a bear and decorate the chair with something furry of a similar color to your costume, along with a scary prop or two.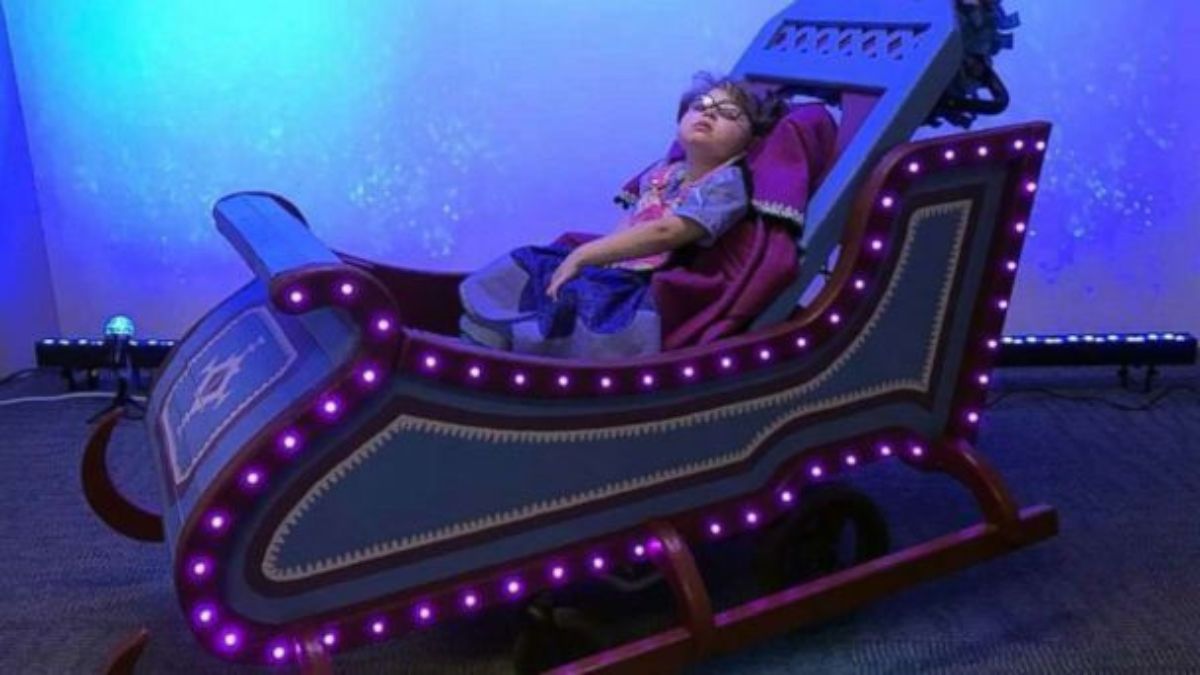 Like what you're reading? Subscribe to our newsletter and get new updates directly to your inbox.
A Royal Costume
Another fun costume idea is to transform your chair into a throne and dress up as a king, queen, prince, or princess. Find some regal clothes and grab a scepter, then build your royal seat with easily adaptable materials (think cardboard or poster board) and decorate lavishly with bright colors. In the same vein, turning the wheelchair into a carriage with a toy horse at the front for a children's prince or princess costume is a cute option.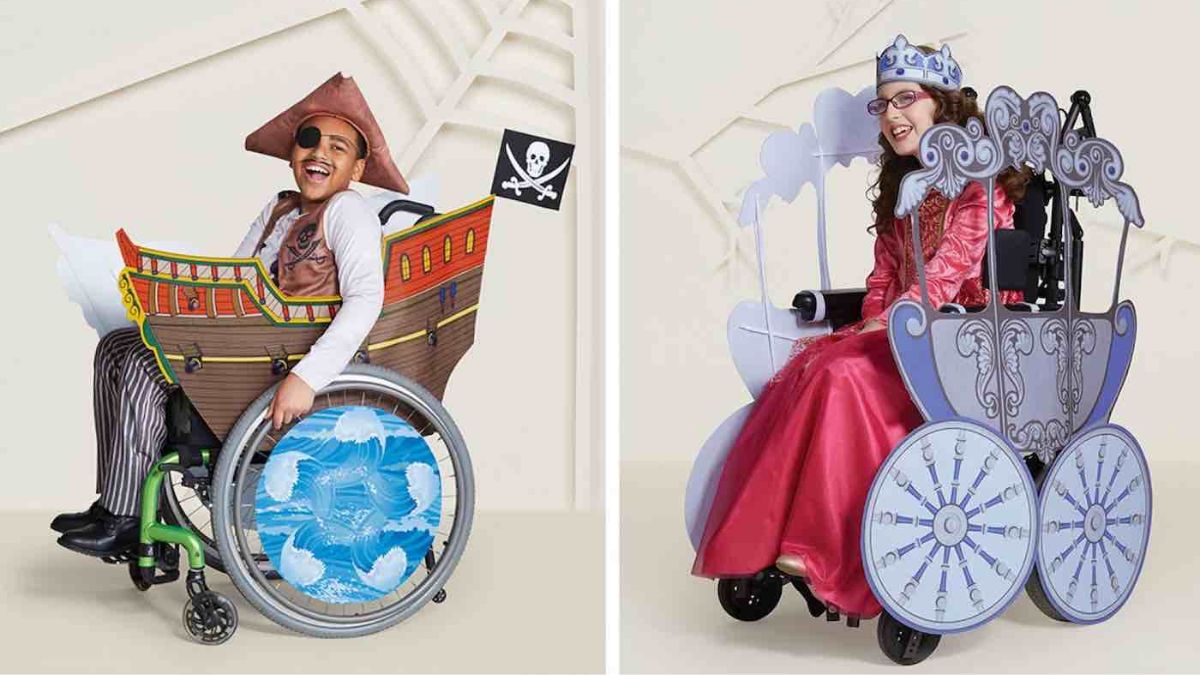 Get Famous
There are plenty of famous wheelchair users in both real-life and fictional tales. Real-life options include Franklin Delanor Roosevelt, Stephen Hawking, and Frida Kahlo, amongst many others. The first two are as simple as dressing in a nice suit and some glasses, while a Frida Kahlo costume will of course, require you to don the most famous unibrow in history and dress colorfully in her style. For fictional characters, Professor X from the X-men series can be constructed by modifying your wheelchair to look like his high-tech version and dressing in a nice suit. For adult wheelchair users, a costume such as LT. Dan from Forrest Gump or Joe from the Family Guy series could be the hit of the Halloween party.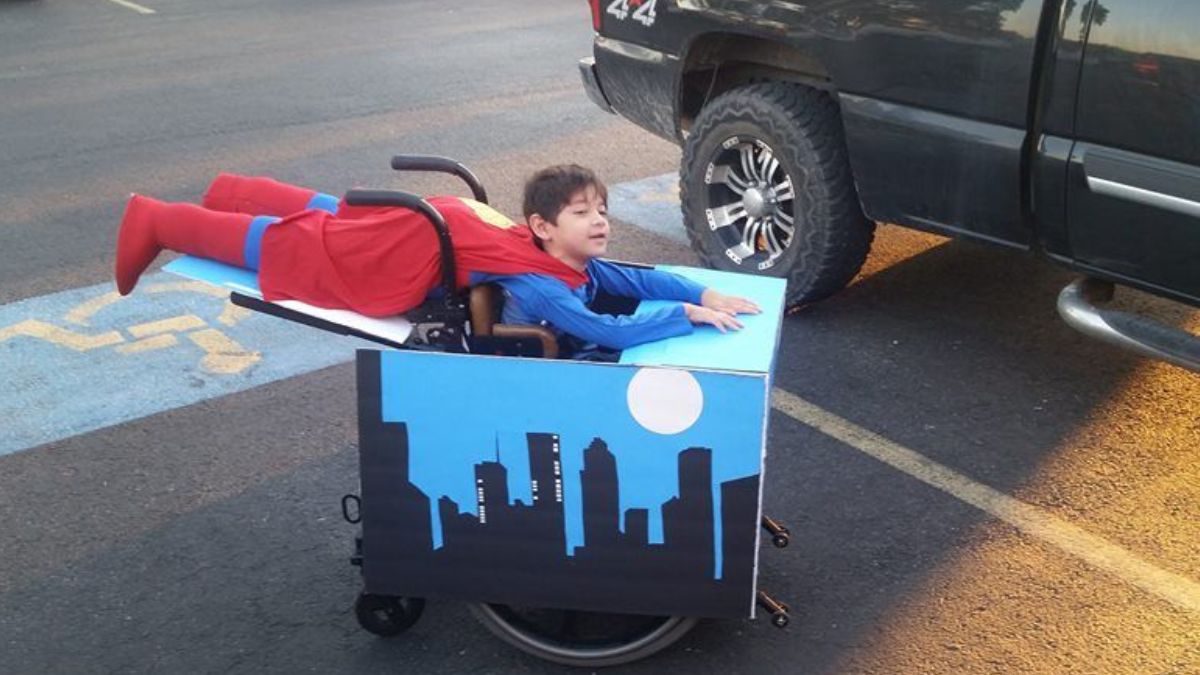 Fast and Easy Wheelchair Costumes
Traditional spooky costumes are a great quick and easy solution for wheelchair users who need a Halloween costume on the fly. Use the wheelchair as a base to build a cardboard coffin around your body and dress as a vampire for a simple and fun Dracula costume. Covering yourself and your wheelchair in black and adding eight legs to the outside makes for a spooky spider, as long as the legs don't interfere with the operation of the chair.  Of course, a cardboard box, some paper plates, and a little bit of decoration can help you transform your chair into a DJ booth in no time.
Wheelchair Getaways is here to wish you a happy and safe Halloween. If you need a fully equipped wheelchair-accessible van to go trick or treating or hit your friend's  Halloween party, we can help! With over 200 locations throughout the United States, we've helped thousands of individuals get back on the road.  Click here to find a wheelchair-accessible rental van near you!