There's nothing more refreshing than taking a dip in the pool on a hot summer day. But if you have mobility concerns, the idea of going to the pool may seem intimidating. Will there be a chair available for you? What about a lift or ramp for getting into and out of the water? Can you bring in your own equipment, or does the facility have specialized gear? 
Fortunately, many facilities and public swimming pools have adopted wheelchair-accessible designs and have made it easier for people with mobility concerns to enjoy swimming. Sounds amazing, right? Read on to discover practical tips, ADA requirements, and innovative solutions that will transform your pool into an inclusive oasis for everyone to enjoy.
How To Make Your Pool Wheelchair Accessible
If you're planning on building a pool or remodeling your existing one, here are a few ways to make it wheelchair-accessible.
Add an Accessible Pool Ladder
One of the best ways to make a swimming pool more user-friendly is by adding an accessible pool ladder. This ladder features non-slip steps and a sturdy handrail that extend above the waterline, giving users the confidence and assistance they need to safely navigate the pool.
Most models feature side deck adapters and side skirting that securely attach to the pool edge to prevent underwater entrapment, ensuring a safe and enjoyable experience for all users. Some portable pool ladders also come with a dolly, making them easy to transport and store when not in use. According to ADA, pool ladders must have a minimum width of 36 inches and a maximum of 8.33% slope for unassisted use.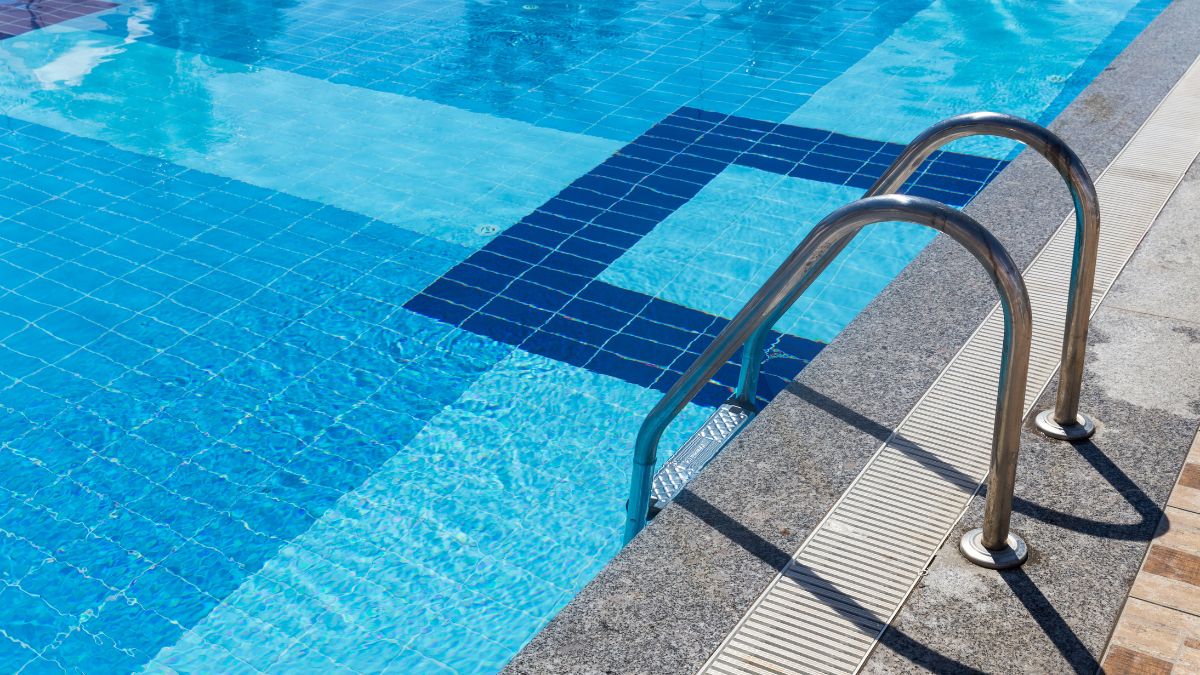 Install a Pool Ramp
For those who use wheelchairs, a pool ramp can be a great substitution for traditional pool ladders or steps. Made of slip-resistant material like concrete, fiberglass, or stainless steel with grips, a pool ramp is a specially designed, gently sloping surface that provides a safe and accessible entry point into a swimming pool.
The gradual incline and handrails on either side of the ramp provide additional support, allowing users to maintain their balance and easily navigate their way in and out of the pool. This makes it great for people who live with cerebral palsy, multiple sclerosis, or muscular dystrophy and want to use a swimming pool for therapeutic reasons.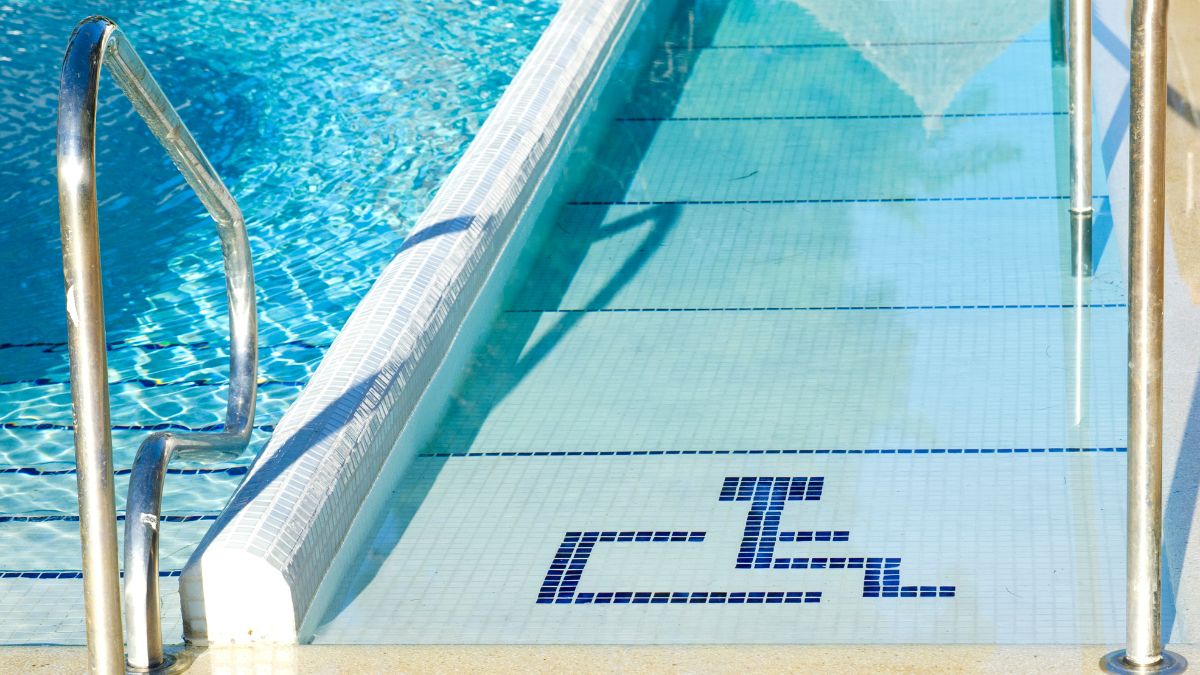 Use a Pool Lift
If you have trouble climbing ladders or don't want to spend money on complete pool renovation, a pool lift is just what you need. A pool lift is a mechanical device that features a comfortable seat attached to an arm that lowers and raises the user into the water without any extra effort on their part.
There are various types of pool lifts, including battery-powered lifts, manual hydraulic lifts, and fully automatic lifts. While most models are bolted to the pool deck, some are portable and can be moved to other pools or stored away when not in use.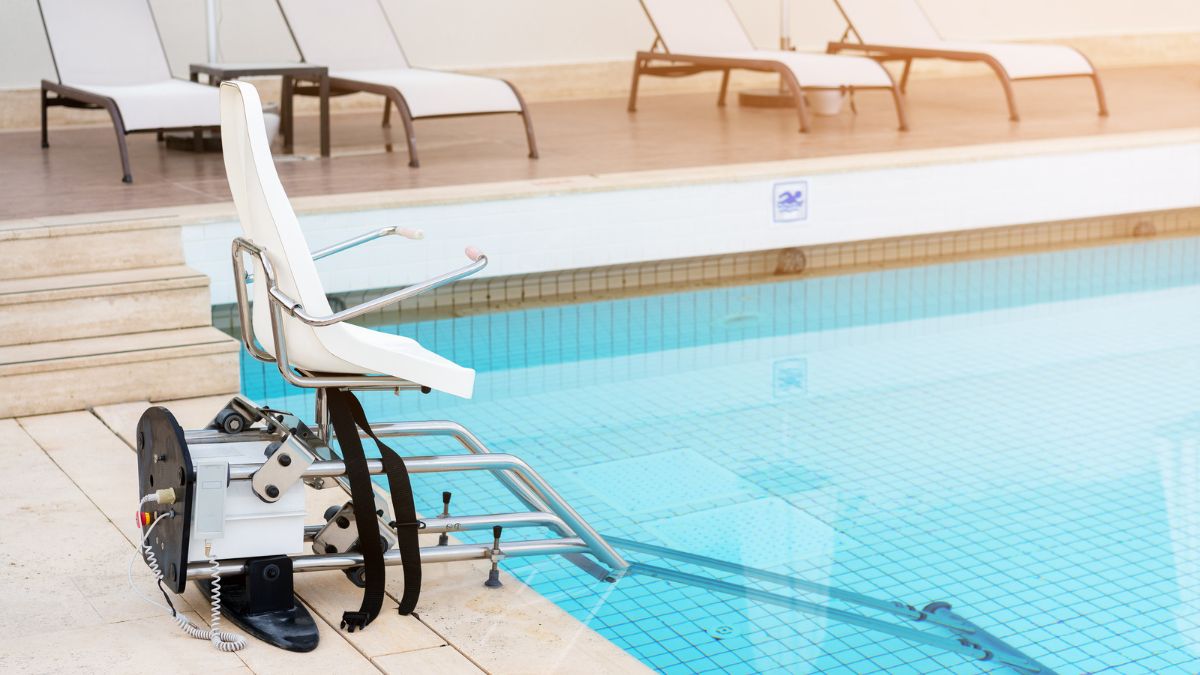 Create a Zero-Entry Pool
Also known as a walk-in pool, a zero-entry pool has a gradually sloping entrance that allows wheelchair users to roll directly into the water without needing a ramp or lift. Since these pools offer direct access to the water, it's best to use an aquatic chair for user safety. These swimming pool wheelchairs boast large wheels and armrests that stay afloat, keeping the chair above the waterline in a stable manner.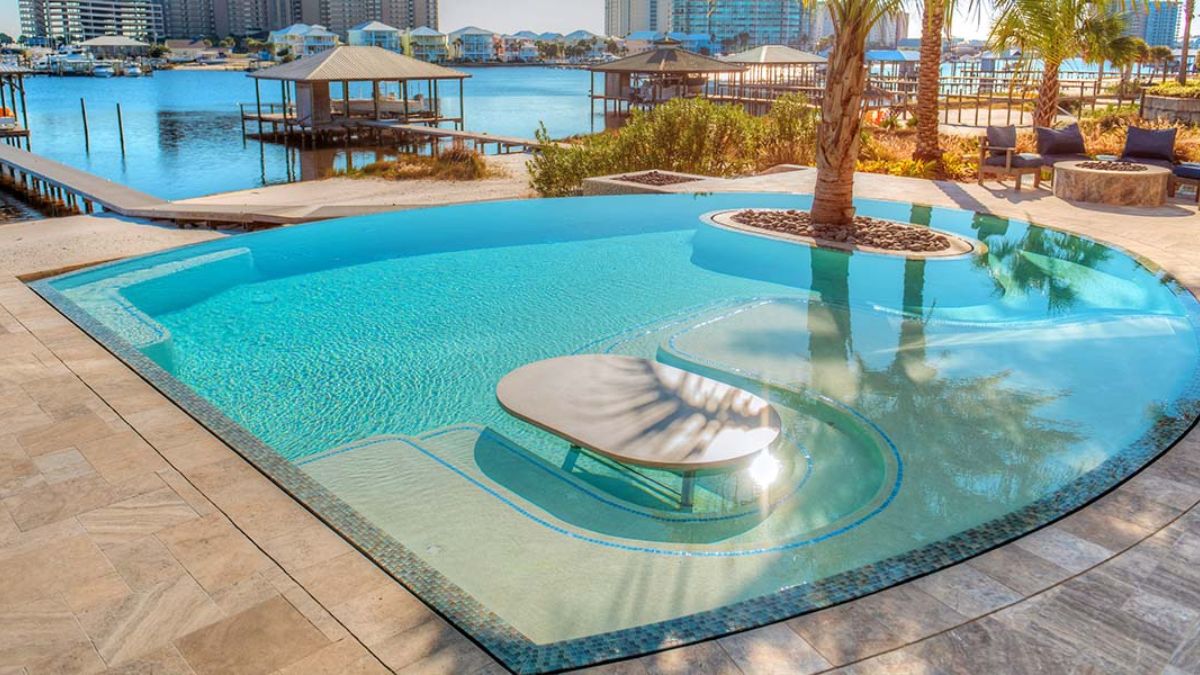 Provide a Transfer Wall
Perhaps one of the most significant improvements for wheelchair users is the transfer wall. A transfer wall is a low wall with grab bars that allows wheelchair users to move from their chairs to the pool edge and then into the water. Transfer walls can be installed on existing pools or as part of new construction.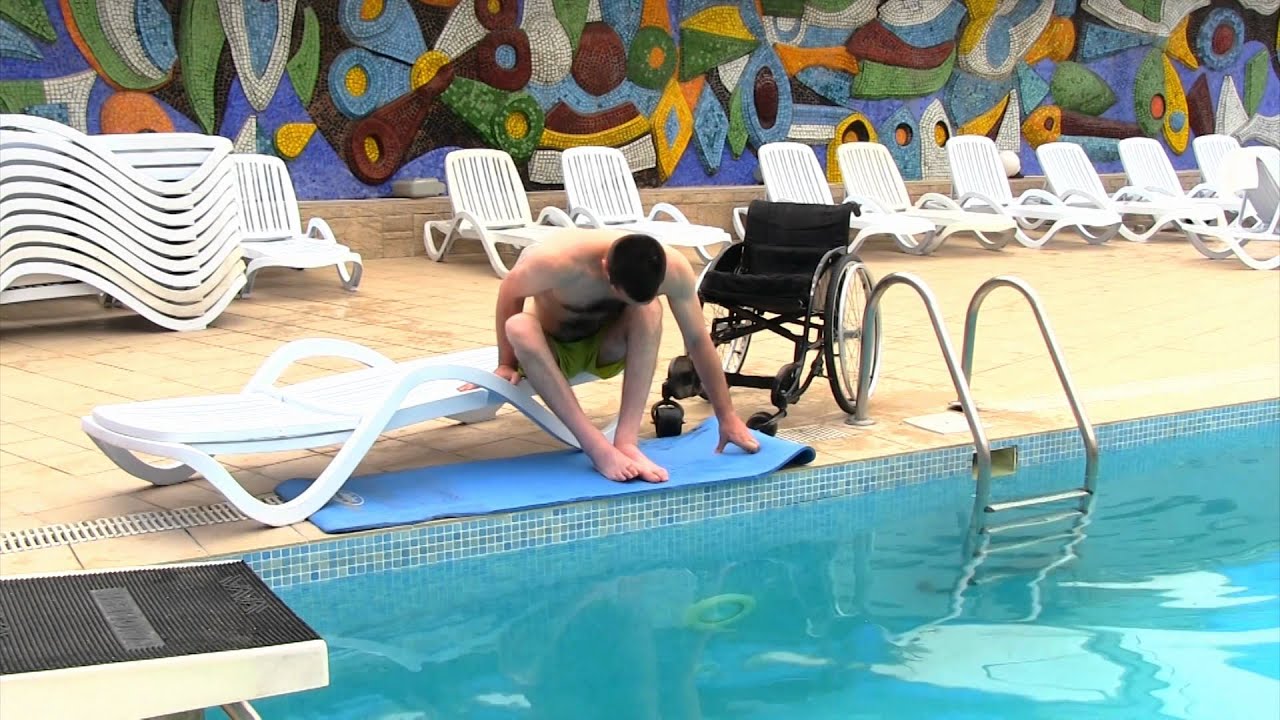 Like what you're reading? Subscribe to our newsletter and get new updates directly to your inbox.
ADA Compliant Wheelchair Accessible Pool Requirements
The Americans with Disabilities Act (ADA) sets specific guidelines and requirements for pools, including commercial pools, wading pools, aquatic recreation facilities, and spas, to remove all barriers and promote an all-inclusive environment for all.
Here are some key ADA-compliant wheelchair-accessible pool requirements:
A large pool with more than 300 linear feet of pool wall must have two accessible entry methods; a sloped entry and a pool lift that a disabled individual can operate without requiring any assistance. 

For smaller pools, at least one accessible entry method is required. These entry methods can include pool lifts, sloped entries (ramps), transfer walls, transfer systems, or accessible pool stairs.

If using a pool lift as an accessible entry method, it must have a minimum weight capacity of 300 pounds, a solid seat at least 16 inches wide, and footrests. The lift must be installed where the water level is not deeper than 48 inches.

If a pool has a sloped entry, it must have a gradient no steeper than 1:12, meaning for every 12 inches of horizontal distance, the ramp should rise no more than 1 inch in height. Handrails must be provided on both sides of the ramp, and the ramp surface should be slip-resistant.

Transfer walls or systems must have a platform with a height of 16 to 19 inches, and handrails should be provided to aid in the transfer process. The wall or system must also have enough space, ideally 12 to 16 inches wide, to sit comfortably and pivot to access water. The platform and steps must have rounded edges to minimize the risk of injuries.

Accessible pool stairs must be installed with a uniform tread of at least 11 inches and a width of 20-24 inches to improve balance and stability when moving from the deck to the water. The pool stairs should have handrails on both sides that provide an unobstructed grasp.
Maintenance and Safety of Wheelchair-Accessible Pools
Proper maintenance and safety measures are crucial to ensure a comfortable and secure swimming experience. These include:
Keep the pool area, ramps, lifts, and accessible stairs clean and free from debris to prevent slipping hazards and ensure smooth operation.

Regularly inspect all pool equipment for any signs of wear, damage, or malfunction. Address any issues promptly to prevent potential accidents or equipment failure during operational hours. 

Charge portable lifts for continued usage during operation hours. 

Install clear and visible signage indicating the location of accessible entry points and any safety guidelines or instructions for using the equipment.

Ensure that lifeguards and pool staff are always present and attentive to monitor and assist swimmers with disabilities or mobility challenges. Pool staff should know how to use visual aids, hand signals, or other alternative communication methods if needed.

Develop and implement emergency procedures, including evacuation plans and rescue techniques, for maximum safety.
Make the Splash with Wheelchair Getaways
Whether you plan on visiting an adventure park to spend time in the lazy river or going to a therapeutic pool for hydrotherapy, Wheelchair Getaways has got you covered. We provide accessible transportation solutions so you can travel without worrying about the logistics. For more information about our wheelchair-accessible vehicles, request a rental quote or call us at 866-224-1750, and our friendly staff will help you plan your trip.